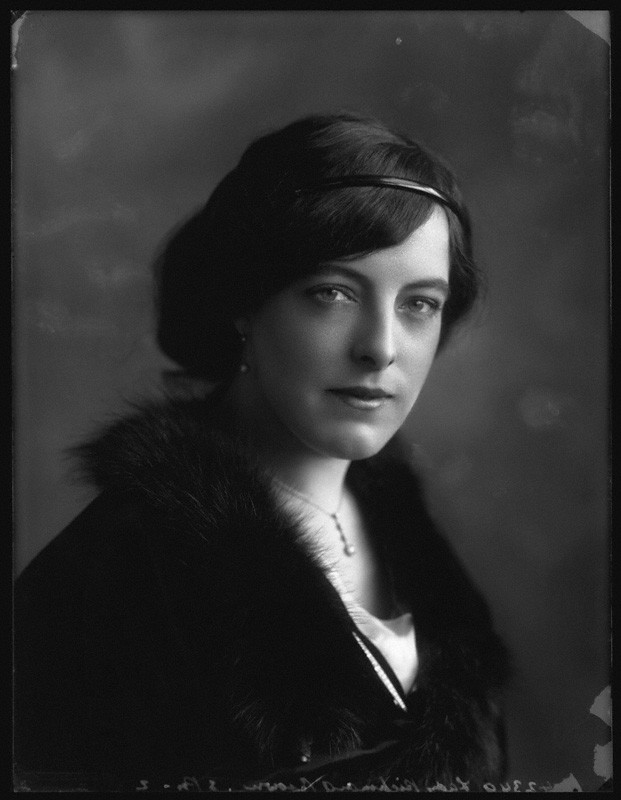 For the next post in my series of explorers and adventurers I knew I wanted to write about one of the many intrepid women from the early 20th century who set off into the unknown. This was a period when women were offered more freedom in life, especially those from the upper classes with independent wealth. Newspapers and society magazines were fascinated by the tales of women who left behind the comforts of their life in England to travel the world, sometimes to places few Westerners had been before. As strong-willed, independent women they do not always come across as the most likeable but I can't help but admire their tenacity and spiritedness.
Lilian Mabel Alice Roussell, known affectionately as 'Mabs', was born in 1885. She appears to have led a relatively normal life of privilege until the 1920s when she sought out a life of adventure and exploration. In 1906, aged twenty-one, she married Sir Melville Richmond-Brown, 3rd Bt, but by 1910 Melville had been judged by law to be insane and from then on his affairs were managed by a 'Master of Lunacy.' Presumably in response to her husband's situation, Mabs filed for judicial separation in 1909 (although it was not finalised for some years). In 1931 Melville's guardian filed for divorce from Mabs on behalf of Melville. 
These studio portraits taken by the Bassano studio in Bond Street between 1910 and 1913 show a striking woman with an air of confidence and slight disinterest. She seems to have suffered from poor health for much of her life but was a keen angler and did some travelling during the 1910s. An Australian newspaper article  would later write this slightly patronising description of her: 'Rather diminutive, attractive, queer in her ways, she appeared quite capable of giving a pleasant tea-party, but hardly cut out for facing savages in the wilds of Central America. To Central America she went, however, for no other reason than that she wanted to go.'
The first mention I can find of her life of adventure is in 1921 when, in her late thirties and still married, she joined the noted adventurer Frederick Mitchell Hedges on a two year research trip to the Caribbean and Panama. There is some suggestion that she may have travelled to places including Algeria and Palestine prior to her travels with Frederick but this was certainly her first taste of a more rugged form of travelling.
The pair had met by chance at Waterloo station in 1921 and, although described in the press as 'companions', they were clearly in a relationship and it was certainly not Frederick's first affair. In the Richmond Brown's divorce case of 1931 Mabs's adultery with Frederick was used as the reason for the divorce. A skilled self-publicist, Frederick was likely also keen to use Mabs's significant wealth to fund his travels.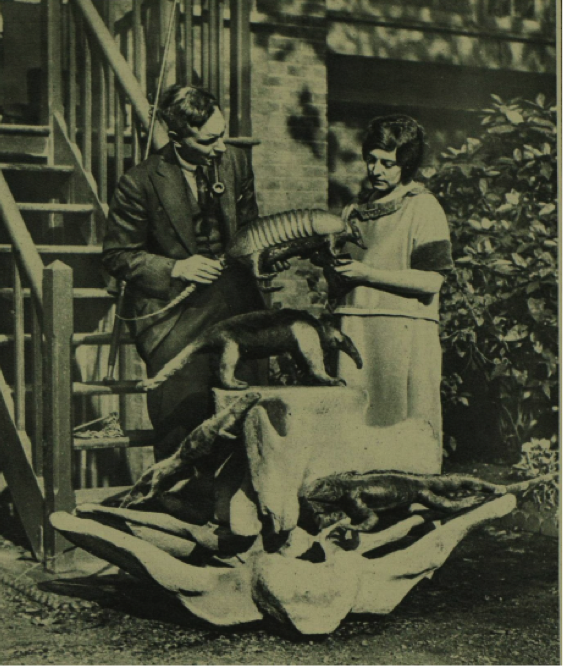 Although she wrote a number of newspaper and magazine articles about her exploits, Mabs only had one book published. In Unknown Tribes: Uncharted Seas (1924) she writes of her adventures in the Caribbean and Panama, recalling the crossing of oceans and the many tribes they encountered. In one extraordinary story she recounts how the pair were staying with the Chucunaque tribe (near Panama) and were taken captive.
In a bid to show their strength Frederick decided their only chance of survival was to convince the tribesmen that they possessed some otherworldly power. Giving himself the easier part to play, Frederick gave a grand speech that apparently impressed the tribe, and poor Mabs was left to carry out the rest of the plan. Draped in a white dress, stockings and ropes to imitate pearls Mabs was (somehow) expected to convince the tribe that she was a spirit emerging from the flames of a fire. The plan surprisingly worked and they were freed. These seem, to me, to be one of the many instances of Frederick and Mabs embellishing stories for the press and readers eager to hear of their exploits. But an illustration of Mabs in her costume with the daughter of the tribe's chief throws some light on the 'dramatic' moment.
Frederick's eagerness for publicity and his dominating personality may be the reason why Mabs did not publish books about her other adventures. I would guess that the relatively poor writing in her first book had something to do with that too.
In the Spring of 1925 Mabs, Frederick and the amateur archaeologist Thomas Gann (1868-1938) travelled to the Maya ruins at Lubaantun in British Honduras (now Belize) in the hopes of making significant discoveries. Gann had led the first European exploration of the site in 1903 and published two reports about his findings but he did not return until 1924 when he went with Frederick and Mabs. In the twenty years that had passed since Gann's first trip to the site others had travelled there but nothing of note had been found. 
During their 1925 trip they travelled some of the way on Mabs and Frederick's yacht and, according to Ganns's accounts,  they travelled with a pet monkey named Michael. After briefly splitting up on the journey to Lubaantu, Gann arrived at the site to find the pair in a gloomy mood as Frederick had been forced to shoot Michael after he ate some poisonous vegetation. A sad end for the adventurous pet, but he was given a grand burial beneath one of the ancient Maya pyramids.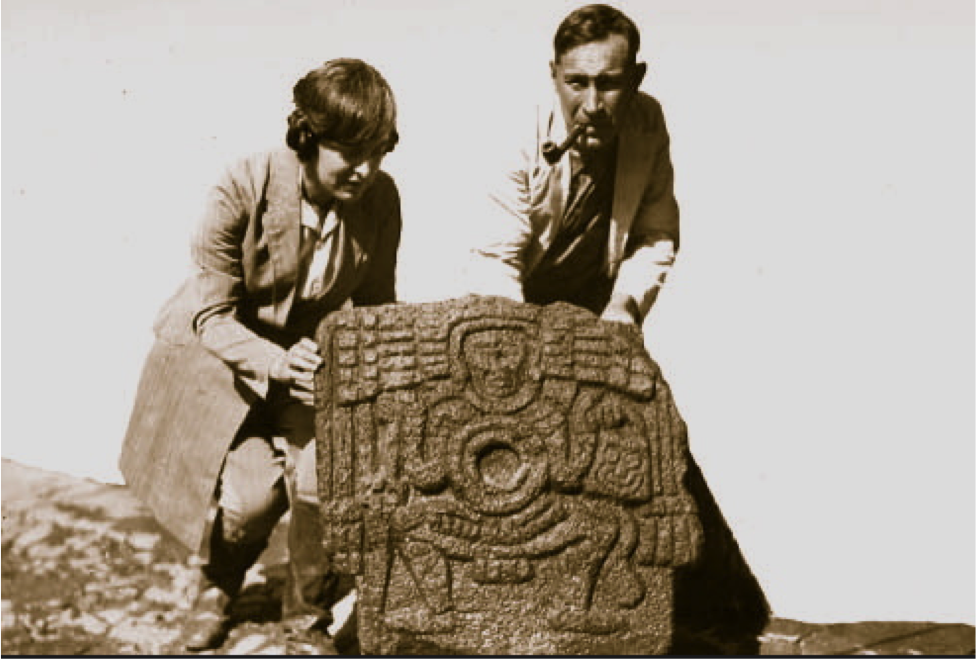 Whilst staying at the Mayan site Mabs and Frederick weren't given any special treatment; they lived in a small hut that had been vacated by a local man who had built a superior hut for himself nearby. They reported to have killed thirty-one scorpions and eleven tarantulas in their dwelling during their stay, and regularly witnessed armies of large brown ants marching across the floor. Each member of the trio was incapacitated for a period due to insect bites and stings, but Frederick was certainly the most unlucky after sitting on a scorpion! During their period at Lubaantun the group completely cleared the site of vegetation, made some minor excavations and found a large number of objects of interest.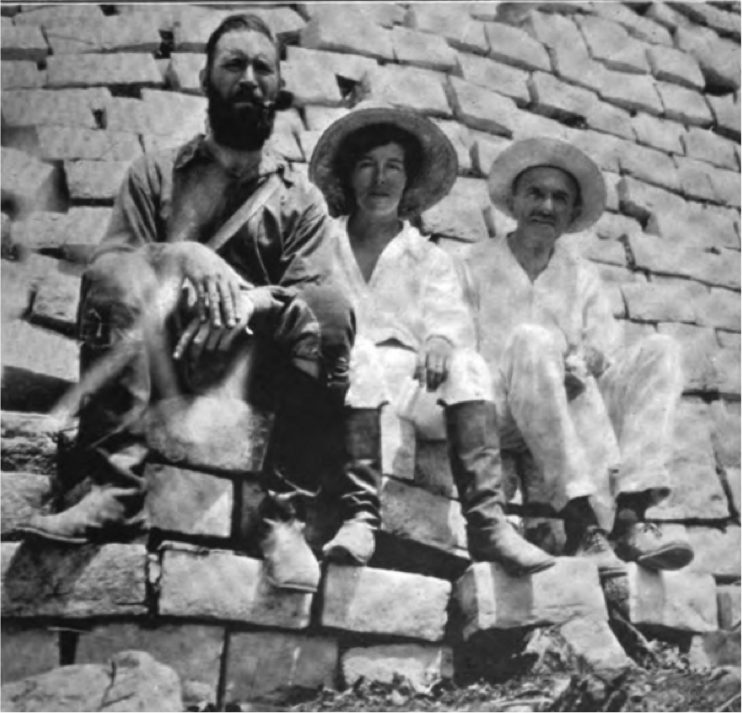 In 1926 Frederick, accompanied by Mabs, was sent back to the site, partly funded by the Daily Mail. On their return they brought back over 500 specimens including three anacondas, two armadillos, a marmoset and a mountain lion. All of which were presented to London Zoo.
Frederick was clearly skilled at self-publicity, writing several articles for The Illustrated London News and, when an article failed to mention his name in a report on the discoveries at the site, he insisted it was corrected to state the he was a co-discoverer. However, it seems likely that Gann carried out most of the actual work.
Although Mabs was clearly an impressive character with a tenacious sense of adventure, she does represent some of the aspects of exploration in the first half of the 20th century that many people nowadays would find unpleasant. One of Mabs's favourite past times appears to have been catching huge fish. It was an important part of her life and she appears to have been quite good at it unfortunately.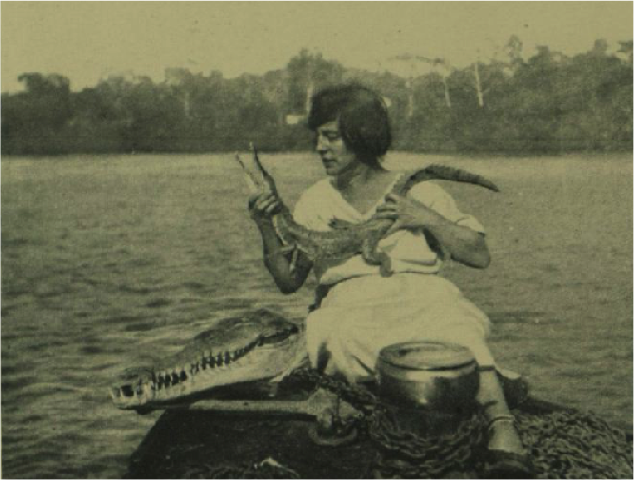 In 1923 The London Illustrated News dedicated two pages to her and Frederick's battle to catch a 31 foot swordfish and a 20 foot tiger shark. It also printed a photograph of Mabs with a baby crocodile that she had thought was dead after Frederick shot at it in the water (the suggestion is that this was in self-defence…) but that came to life in her hands. Next to her is the head of a crocodile that they clearly were more successful in shooting after it 'nearly seized her and dragged her from the boat.' Both of these images were included in Frederick's book Battles with Giant Fish which I have little interest in reading and I suspect demonstrates mainly the battles that Frederick 'won' and not many of those that he lost.
I haven't discovered what Mabs did during the 1930s and 1940s but it is likely that her general poor health restricted her activities to some extent. She seems to have continued to occasionally visit Frederick in Honduras in the late 1920s but they may have ended their acquaintance after Frederick was named as her lover in her divorce case in 1931. She died in 1946, two years after her former husband. Frederick survived until 1959 and in the years since his death many of his claims of being a great explorer have been widely discredited.
Some insight into Mabs's passion for travelling to unknown places can be found in her book Unknown Tribes and Uncharted Seas: 'My friends have often asked me whether I would have undertaken the journey so lightheartedly if I had known as I now do the dangers and privations which has to be faced. Weighing the intense thirst and burning heat, the fever and mosquitoes, the not being able to take off clothing for days on end, even the shortage of food, I can truthfully answer 'Yes."